Energetic Lalettan in a disappointing movie!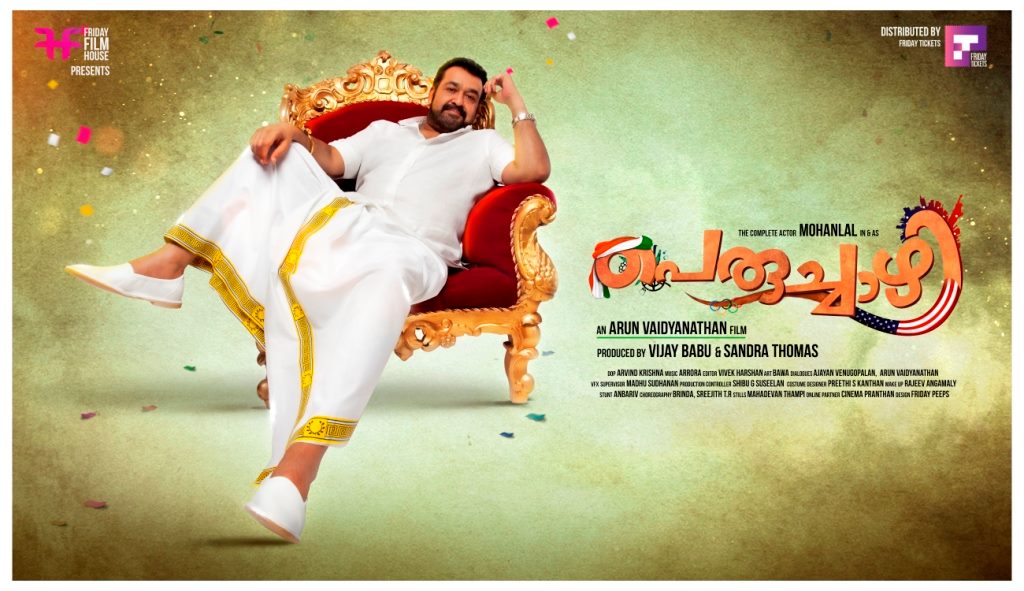 Movie Poster
Peruchazhi had absolutely everything going for it.Malayalam's biggest star as it's hero,a reputed banner backing it,a talented star cast, a competent director and technical team,humongous pre-release hype; yet the movie fails to satisfy the average viewer because of it's tasteless script.
Lalettan is Jagannadhan,the state P.W.D Minister's (Mukesh as Francis) political troubleshooter.Perturbed by Jagan's rise,Francis decides to send him to United States of America in the pretext of helping out his nephew Sunny Kurishingal (Vijay Babu)with the California state Governor elections (Sunny is the chief campaign manager of John Kory,the Republican Candidate).Sunny is in deep mess now as John's rating among the voters is not very encouraging and his chances of winning the elections are really slim.How Jagan helps Sunny in his endeavour is what 'Peruchazhi' is all about.To give him company are his sidekicks,Jabbar(Baburaj) and Vayalar Varkey(Aju Varghese).There is also a parallel track showing Francis's political life in Kerala and his struggles for survival in the 'highly competitive world' of Kerala Politics!
Arun Vaidyanathan's attempt is to make a social satire and to give him due credit,he should be applauded for choosing such an innovative and promising theme for his debut feature in Malayalam.The movie starts off in a promising manner too but as it progresses,the cracks in the script become more and more apparent and pretty soon it crumbles like a pack of cards.Jagannadhan's 'ideas' which raises Kory's fortunes are hardly innovative and one can't help wondering why an Indian had to go all the way to the U.S. to execute these mundane ideas!As is a norm these days,there are plenty of references to yesteryear Mohanlal hits with the director even re-creating many of his super hit songs(Megham Poothutudangi,Karutha penne,to name a few).To be very frank,it works initially only to become tiresome and boring after a while.
The biggest strength of this flick is the performance of the lead cast.Peruchazhi is a Lalettan show all the way,breathes life into an otherwise half-baked character and delivers a crackling performance on screen.Baburaj and Aju Varghese give him ample support,so does Mukesh in a brief,yet important role.Vijay Babu as Sunny also does a decent job.Arvind Krishna's frames are captivating.The Heroine(Ragini Nandwani as Jessie)has nothing much to do.Infact her character itself looks like an afterthought.
The basic problem with the movie is it's outdated script.The makers are clearly trying to cash in the popularity of Superstar Lalettan ("
the whole world knows I'm a hero who handles comedy well")
but what they have conveniently forgotten is that inane attempts like this will only serve to diminish his brand value. C
lichés
coming one after the other,pointless forced slapstick comic sequences
(which will even put off-the hardcore fans of television skits),amateurish double meaning dialogues and
loud songs with gibberish lyrics (
that serves absolutely no purpose in the narrative
) don't help the matters in any manner.
The less said about the half-hearted attempts at satire,the better.Be it those attempts at poking fun at the mother-son duo,P.J.Joseph's infamous press-meet, the sorry plight of roads in Kerala,the Mullaperiyar issue and the transient memory of the 'news hungry public',nothing manage to leave the desired impact in the viewer.
Vivek Harshan could have done a better job at the editing table as there are many pointless,over-long scenes,especially in the second half of the film.The songs(Arrorra) are also a big let down.
By the time this 150 minute movie reaches it's end(after one of the most idiotic climactic sequences of recent times),one feels sorry for Lalettan,Baburaj,Mukesh and Aju Varghese(
it's their one-liners which save the movie from becoming a big bore in the first half)
who have not only put up a sincere and commendable performance but also tried their best to cover up the gaping holes in the script,they deserved better,far better!
Verdict- Nothing Great.I'm giving it a 2 out of 5.
-nikhimenon