2017 has rather been a disappointing year for the Malayalam Movie Industry so far.One of it's leading men is behind bars for an alleged crime done against his own colleague,many of the much hyped movies got universally panned and bit the dust at the kerala box-office. There has been no big successes like a PuliMurugan/ Premam/Ennu Ninte Moidheen so far.With mediocre content,the Onam releases have also failed to really set the box-office on fire.Here,we have a look at those movies of the year which offered a lot prior to their release but turned out to be lacklustre affairs at the end.
10.Fukri(Siddique)- Hit maker Siddique's first outing with Jayasurya turned out to be a rehash of various yesteryear hits like 'Udayapuram Sulthan'.With silly jokes and over the top performances,Fukri was yet another case of bad writing spoiling the party!
9.Jomonte Suvisheshangal(Satyan Anthikkad)-Sathyettan's loyal family audience might have helped the movie to scrape through at the kerala boxoffice but there is no denying the fact that 'Jomonte..' was nothing other than a bargain basement version of last year's 'Jaobinte Swargarajyam'.The only silver lining in this otherwise mediocre affair was the sincere performance from the father son duo played by Dulquer Salman-Mukesh.
8.Honeybee 2(Lal Jr)-Well, the prequel was no great cinematic gem.But the sequel was widely expected to repeat the former movie's box-office success.Though replete with sexual innuendos and crass jokes,HB2 failed to please even the front benchers and turned out to be a turkey at the ticket windows!
7.1971:Beyond Borders(Major Ravi)-well, nothing more to be said about this one.This wannabe war movie couldn't even satisfy Lalettan's devoted fans.We wish Major sir comes up with a better script next time!
6.Georgettan's Pooram(Biju Arookkutty)-Expected to be the year's festival entertainer from Dileep,this pooram ended up as a celebration of mediocricity.Neither a critical nor a commercial success,this movie didn't generate the opening which Dileep movies used to take during a vacation season.
5.The Great Father(Haneef Adeni)-Mammookka looked uber cool as ever but this misguided family thriller suffered due to bad writing.Perhaps the most profitable venture in this list,The Great Father was a disappointment from an aesthetic point of view.
4.Pullikkaran S(t)aara(Syamdhar)-When a relatively new director tries to cash in on Mamooka's super cool looks overlooking the mamooth sized holes and the pointlessness in the script,we can confidently say that the megastar should be more careful in choosing his projects.
3.Tiyaan(Jeeyen Krishnakumar)-The promos were extra ordinary and the production values were top notch but when you cannot back it up with a solid script,all the efforts go in vain.Tiyaan was one of the most disppointing films of the year both critically and commercially.
2.Achayans(Kannan Thamarakkulam) and Puthenpanam(Ranjith)-A mindless comedy entertainer was what was widely expected out of this flick.But 'Achayans' failed to entertain!With a rather muddling script,in Puthenpanam Ranjith tried to take solace in the Kasargode slang,but the majority of the viewers found it confusing and mildly amusing!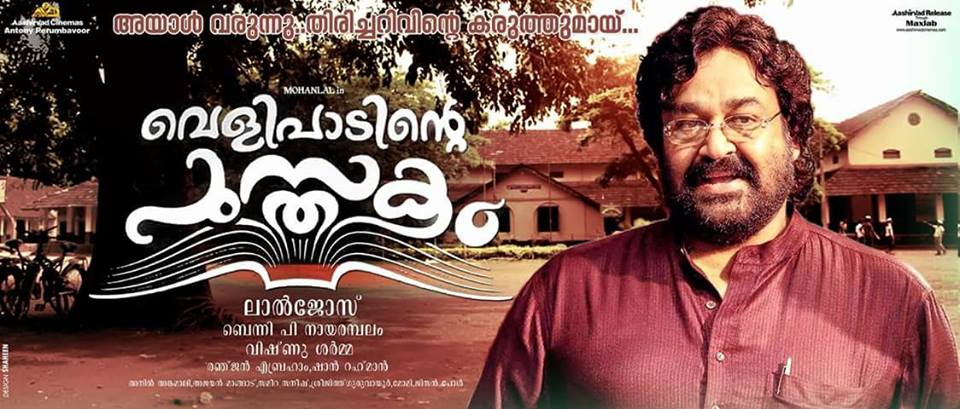 1.Velipaadinte Pusthakam(Lal Jose)-Benny P Nayarambalam-Lal Jose-Mohanlal.The names were big,the expectations sky high,'Jimmikki Kammal' became Kerala's 'why this Kolaveri',but alas,the content was too weak to speak for itself!
-nikhimenon